Introduction
Man, it's been a really long time ever since I wrote my last review back in April, huh? After this and the Metroid Prime 3 review, I'll be moving on to the third "saga" of reviews. Getting back on topic and as the name implies, this is basically the console successor to the original NEW! Super Mario Bros. on the Nintendo DS. What I'm trying to essentially state is that it's the rip-off to a rip-off. The irony of such a claim is that it's actually the most unique game in the spin-off series, because its successors NSMB2 and NSMBU on the 3DS and Wii U respectively are even more ripped-off.
It started development and was surprisingly published in the same year of 2009. This was when the Wii was at its peak, only a few months later for it to be the casual kiddie toy that it's remembered…er…forgotten as today. I recall everyone getting hyped for the game since it was the return of 2D Mario on consoles; there was co-op multiplayer for the first time; and the reboot of old characters like Yoshi, Kamek, and the Koopalings (okay, Yoshi sort of doesn't count). I didn't get it until December 2010 as I was too busy playing Mario Kart Wii back in 2009.
Plot
Just like with any typical 2D Mario platforming side-scroller game, all is well until Bowser comes and kidnaps Peach, prompting Mario in pursuit to save her. This time; however, it's her birthday with the plumbers , along with two generic Toads as invited guests, which gets crashed by the Koopalings and Bowser J.R. Peach is brought to and taken hostage into their air-ship, where they head off to escape Mario's grasp, but not before the game's new power-ups being launched by cannons throughout the kingdom to aid Mario.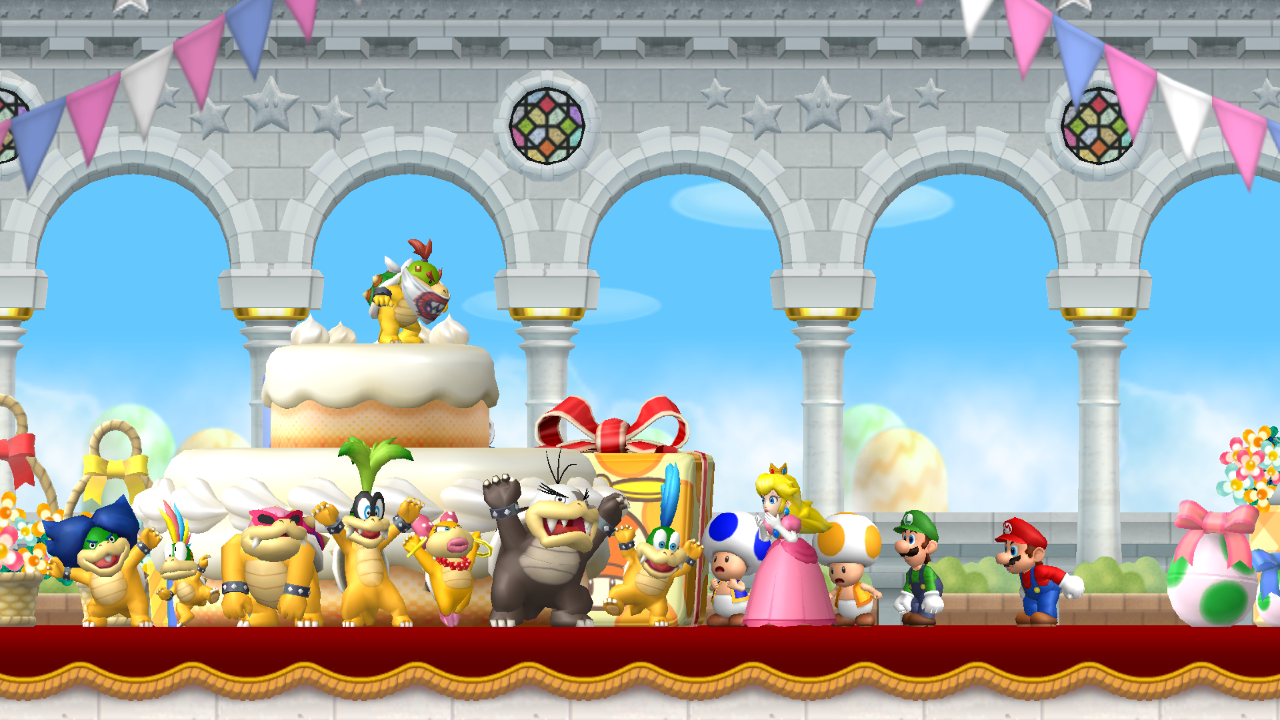 If you honestly expected this game to have an amazing plot, then this is the wrong place to look for. I understand that Mario games were never really strong in the story department, but ever since the cinematic storyline in Super Mario Galaxy and Super Paper Mario, it's very disappointing to downgrade as something as shitty as this. They should've at least put some story cutscenes to expand upon the plot (besides the prologue and epilogue) and also place some dialogue text boxes for character interaction.
Gameplay
Basic concepts such as platforming and power-ups are present; however, there are some new gameplay mechanics. As with most Wii titles, motion controls are implemented in gimmicks one way or another. Unlike other games, NEW! Super Mario Bros. Wii inputs them as control commands such as spinning, grabbing/throwing, or activating motion-controlled "vehicles" and platforms. Another mechanic is the 4 player co-op that will be emphasized later; while objects, platforms, and enemies being of different proportion is a deliberate level design choice that will also be elaborated.
Other than single player, there's also multi-player; three friends can join in the fray and play together simultaneously on-screen with four different characters. Each player has an option of either Luigi, Yellow Toad, or Blue Toad…with player 1 having Mario as default. It's nice to have several people helping each other out to get hidden goodies or beat tough challenges that a single person usually can't do alone. You can take advantage by grabbing, throwing, and even jumping on other players too – there's also this super move that occurs when 2 or more ground pound at the same time.
Since it's a series first, I'll let some strings loose and not judge it for lacking online or having good teamwork design. On the contrary, I do find the screen and camera to be an issue because it always zooms out extremely with four players; it chooses which player to focus on – not always the first player or leading one; and anybody behind the camera can get killed and anybody ahead risks getting damaged by incoming obstacles and enemies. The whole co-op idea is a good start, though it honestly hinders progress more often than increasing it if your goal is to seriously beat the game.
Coin Hunting and Free-For-All are solutions to it as they fix these annoyances. The former is getting as much coins as you can by beating custom levels that are full of coins; the latter is beating any level except that no progress is saved and the screen isn't as messed up as it usually is. The downside to these game modes is that you have to beat the levels in the main game in order to play all the levels in these modes, and also that your progress automatically gets deleted when you reset, turn off, or leave the multi-player menus.
What I forgot to mention was that the characters themselves are also underwhelming to play as. There is no difference in terms of stats at all, so each character are all clones and/or palette swaps of each other. Don't assume that they're as unique as they are in Super Mario Bros. 2 (USA) or in Super Mario 3D World. Returning from past titles are the Koopalings, Yoshi, Bowser J.R, and Kamek. The returning villians are much better in their modern appearances and boss battles, whereas Yoshi and Bowser J.R are disappointing with theirs.
Similar to NSMB, the Mushroom Kingdom is comprised of 8 worlds. Each area is based off of stereotypical environments such as forest, desert, and beach. They are all third-dimensional in terms of exploration with nice layouts and several great landmarks. Fortresses, castles, and houses fill up the maps, and each level icon has background objects giving clues as to what to expect when you play them…similar to Donkey Kong Country Returns. Alternate paths, hidden areas, and enemy battle-grounds are just some of the gimmicks used to enhance the map's appeal and replay value.
Level design is above-average – most ideas are ripped straight from older Mario games or NSMB as I said before. Anything new is just enemies, hazards, and platforms of different sizes that gives the illusion of microscopic or gigantic proportions (which is actually pretty damn cool), motion manipulated platforms and vehicles are used too. Some levels use gimmicks only seen once and never again, such as skeletal roller-coasters over lava and flying manta-rays in the sky. It seems interesting but it pales in comparison to that of DKCR (which is a much better title).
There are returning and new items that are gimmicky but not situational. Super Mushroom, Fire Flower, 1-Up Mushroom, Mini Mushroom, and Star-Man are old items and are pretty self-explanatory. New power-ups consist of the Ice-Flower, Penguin Suit, and the Propeller Mushroom. The Ice Flower allows you to throw ice balls to freeze enemies into ice blocks; the Penguin Suit lets you have ice balls, better swimming controls, and sliding on water and ice to smash through enemies and blocks; and the last item grants flight and is the most OP.
Star Coins, alternate goals/paths, warp-pipes, cannons, and secret rooms are all the hidden goodies in NSMBWii unlockables include a completely new hidden world that is space-themed…spoilers, Toad House mini-games, and also extra game modes and hint videos. They're all fun to find and collect, definitely adding to the replay value, though they do get tedious and boring afterwards. There are these golden stars that you can earn as you progress through getting the unlockables, but it's just for aesthetics as it's displayed on the save file.
Any player, for any odd reason, who cannot beat a tough level or boss battle can activate Super Guide. This is basically a giant, glowing green block with an exclamation mark that appears after dying in a level 8 times in a row and at a checkpoint (or the beginning of a level if you return after leaving it). When activated, the game will simply play itself and beat the level for you, which you just sit back and watch a computer controlled Luigi that slowly beats it. I honestly find it pathetic for the developers to spoon-feed the casuals, and very offensive to use gamers for making the game easier than it already is.
Controls
You can either choose the Wii Remote or the Wiimote & Nunchuk combo, but the former option is recommended and it's the default. The d-pad is to move, crouch, enter doors and pipes, and toggle menu options. Pressing 2 is to jump and confirm menu selections; and the 1 button is to run and/or throw projectiles or objects. If you played the original on the DS, then you've pretty much mastered these controls too. Motion based commands include shaking to spin, grab, and throw certain enemies and items; titling the Wii Remote left and right enables the use of motion controlled platforms and vehicles as repeated dozens of time before.
Music
Another minor thing is the music which is a replica of the prequel's sound track. There are some new compositions and remixes here and there but overall the tunes are generic, repetitive, and corny as usual. Different genres and instruments are evident; however, anybody who played NSMB agrees with me on how useless these efforts are to increase the music's quality. Nintendo should've tried harder like they usually do with other IP's instead of going the lazy route and not composing good music which they did here.
Graphics
Nintendo also put up a half-hearted effort with producing the graphics, and you can tell just by looking at it. The textures are extremely high-rez and the models being exactly accurate of CGI artwork; but everything else is mediocre and makes NSMBWii look only slightly better than its DS predecessors (which looks as bad as a N64 game). While resolution is at 480p standard definition, the frame rate is only at 30 FPS – and it's not locked or consistent as it sometimes can drop to 25 FPS. Lighting and shadow is superficial since the graphics resemble a CGI cartoon animation with plastic, cartoony models like in Sonic Adventure DX.
Verdict
I honestly didn't expect this review to be so short; replay value is ironically where this game shines the most, as beating the game by taking the most linear path; clearing all eight out of nine worlds; and defeating Bowser and his children to save the princess takes about roughly 8 hours. However, attempting to clear all levels, unlock every alternate map route, collect all Star-Coins, activate every warp pipe/cannon, and clear World 9 – which is not easy, even for skilled players – increases it to 40 hours.
We're at the end of this, and you guys know what's coming…so here goes. I like how this game is simplistic and easy, yet still being difficult with extra optional challenges. I also hypocritically enjoy the gimmicks, old mechanics, and the corny music despite what I said as it actually adds to the fun atmosphere and experience in my opinion. I despise how this entry lacks creativity and originality as almost all concepts are rip-offs from older Mario games. With that, I do suggest getting it but only at a reduced price through vintage stores/sites, and for casual gamers and Mario fans, so not a recommendation or a must-have. I mark this game off with a 6.6 out of 10.