Foreword
I think we can finally agree that I've managed to live up to my promises of being consistent with the reviews, so now let's move on with life. This particular review is special since it's dedicated to gaining retribution on the mediocre reviews, back when I first started my career. I heard about Skyward Sword through IGN, by reading news articles and watching video trailers. I was somewhat of a casual fan back then, so I didn't really give much thought on the quality – also, I was too hyped for the Nintendo Wii U back in 2010.
After two long years, I finally bought it along with Super Paper Mario at Wal-Mart during Boxing Day…funny how I still remember all of this. I assumed correctly that it was going to be quite similar to Twilight Princess in terms of gameplay and experience, though quite different with all else. I was very skeptical of how the game was going to be after doing some research on the validity of the perfect score it received (especially after remembering how Super Mario Galaxy 2 turned out). I also wrongly inferred that it would give me a relatively smooth experience.
According to Wikipedia, development began as early in 2008, when Nintendo wanted a more cinematic and gameplay-oriented Zelda game to succeed Twilight Princess after realizing its shortcomings. In fact, they didn't even consider using motion controls (via the Wii Motion Plus), the cartoonish graphics, and basic plot, until the executives were convinced otherwise. This, along with the involvement of Monolith Soft (the creators of Xenoblade Chronicles) decided to co-develop it, thus resulting what was seen in 2010 during E3 and the final product in 2011.
The sad reality is that it received negative reception and little publicity when it was first revealed. We can all remember how humiliating it was for Nintendo at E3 when Miyamoto struggled with the motion controls. Along with it having cel-shaded graphics similar to Wind Waker – and Nintendo focusing more on the Wii U and Zelda HD – it became loathed by fans and widely forgotten after its quiet release in November 2011. When it came out, people suddenly became very bi-polar and soon regarded it as the best Zelda game since Ocarina of Time.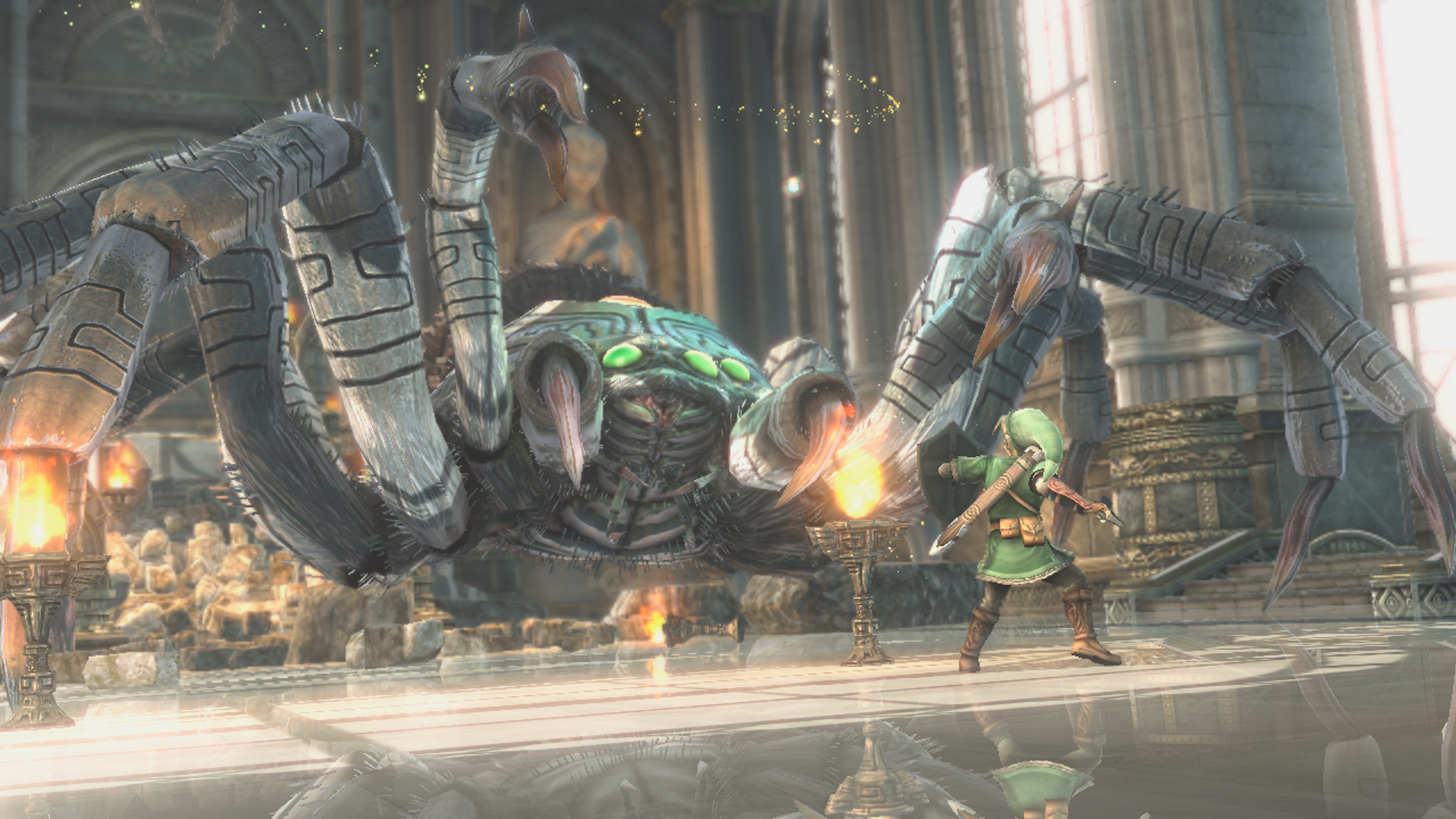 Skyward Sword's plot combined with the aesthetics make it feel very much like Wind Waker, but the gameplay and controls molds it into Twilight Princess. This is a great strategy as Nintendo got what worked for each game, took out what didn't; add in new innovative concepts and fuse it together to get the best of both worlds. You'll find out later that despite its good points, there still exists many flaws that hinder the game from being considered "perfect", as many critics would have you believe.
Gameplay: 7.0/10
Just like with the Wii port of its predecessor, you use both the Wii Remote and Nunchuk to play; not just for pressing buttons, but also to use the motion controls and pointer to utilize the sword and shield, basic commands (i.e., rolling, swinging, balancing, and flying), and projectile-based weapons. New to this installment is the use of the Wii Motion Plus , which increases the accuracy and precision of the motion controls; thus, giving the illusion of more realistic controls. In fact, they put more of an emphasis on puzzle-solving than combat…sort of.
The control stick is used for moving; the Z button to reset the camera and lock-on to target enemies, people, and objects; the C button is to view in first-person mode and dowsing. This new ability is to track down certain people or objects to progress through the story or to find collectibles to replenish supplies and complete side quests. Pressing the A button allows primary actions (i.e., talking, pushing, opening); pressing the B button is for selecting and using items; the + and – buttons are for the pouch and map menus respectively; and the d-pad is for calling Fi for help and playing the harp later on.
Since the Wii Motion Plus changes everything, I'll go out of my way and explain this new concept. You must move the Wii Remote in the desired direction to move it exactly the way you want it within the game, so it's no longer rattling the controller like a baby's toy. The spin attack can be achieved by shaking the Nunchuk horizontally, while the shield bash be performed vertically and with perfect timing (as the shield can break and you can now counter-attack). Many items take advantage of the new technology, so you're going to have to twist, pull, shake, and rotate the remote.
While the controls are a big step-up over Twilight Princess, the problems come from its accuracy and usage (making it a controversial feature of the game). Games on the Wii have a bad reputation for abusing motion controls, and Skyward Sword is no exception as anything from rolling to flying and even balancing requires it and becomes gimmicky and repetitive as a result. Controls will easily not synchronize, have delayed or early responses, or do something you never expected – like why the hell does Link do a shield bash every fucking time I want to stab?!
There are of course ways to overcome these problems; you could re-calibrate the Wii Motion Plus by placing the Wii Remote upside down on a flat surface, pressing down on the d-pad, and (believe it or not) by swinging the Wii Remote vertically thrice. The last two options are the best as they instantly re-calibrate any wonky controls within mere seconds, being very helpful in the heat of battle. If you played Twilight Princess and other sword-fighting games on the Wii such as No More Heroes, it will be much easier to adapt to.
If you don't know who Fi is, she is Link's personal hint system who tells you things to overcome difficult situations. The sad reality is that she won't shut up about the obvious (like low battery or health), she sounds and acts like an emotionless robot, and provide you with useless and/or irrelevant information when you need it the most (like in a dungeon). But hey, at least she tells you things like the main objective, enemy and character analysis, total play time, and environmental adaption…kind of like Navi from Ocarina of Time or Tael from Majora's Mask.
You will use a bird called a Loftwing as a main method of travel through the sky (which serves as this game's hubworld). It's a much better alternative to walking and horse-riding in terms of speed and convenience, but it becomes tedious to always use motion controls, and it adds superficial value to the empty hubworld. Another mechanic is the Wii Motion Plus, in which everything from weapons, puzzles, and enemies exploiting it; while it may seem like Skyward Sword has become gimmicky, it really isn't and works pretty well.
Nintendo heavily implemented it so you're going to be strategic and forced to adapt. Playing Twilight Princess again makes it a breeze, except when it comes to combat and item-use. They just love to fuck with you with the rubber-band AI of the enemies by having them use mind games on you. The confusion of which direction or area to strike, topped with the imprecise controls, hinders to the experience but adds to the challenge. But, the enemies are pretty dumb and most of their attacks can easily be countered with the shield-bash.
Usually people will have their own strong opinions when it comes to the game's overall difficulty as Skyward Sword is radically different. Many puzzles and dungeons this time require multiple strategies, items, weapons, and attempts – along with motion controls – in order to successfully solve. Bosses are a major improvement over Twilight Princess because they're much harder with more health, strength, and intelligence. You will adapt to it but expect a few Game-Over's occasionally (especially with Ghirahim and Demise).
Presentation: 8.0/10
Skyward Sword is a cross between Wind Waker and Twilight Princess in terms of the graphics – the art style being cartoonish, bright, and vibrant inspired by the former; the models, textures, and atmosphere based off the latter. What's a big shame is that Nintendo still never learned its mistakes as the textures are still low-resolution and lack detail, models being jaggy, frame-rate inconsistent and low (onlt at 30 FPS), and backgrounds being blurry. Hey, at least the NPC's are more realistic now with improved animations and facial expressions.
Models have been significantly upgraded to become more accurate to finally make Skyward Sword look like a Wii game (and not a Game-Cube game). The cel-shaded graphics along with diverse set of colors and excellent lighting makes it more appealing than its darker predecessor. For some reason though, some models have cartoonish textures while others have realistic textures (I guess to stand out in this blurry engine). Why is it that backgrounds and far away objects look like they're in a painting – it's just weird to have all these different art styles!
Another huge "renovation" to increase the aesthetics is the music, with orchestral and instrumental finally being implemented into Zelda as a series first. Nintendo has shown that they indeed learned from (most) of their mistakes by listening to what their fans wanted. Many compositions are memorable, diverse, catchy, and very "intense" so to speak, adding to the graphics and making dungeons and bosses all the more epic. I personally love Ghirahim's Theme, Skyloft, Ballad of the Goddess, and the credits.
Thank the goddesses (I'm an atheist) that they've fixed the sound balance as music no longer drowns out the sound effects, nor does the Wiimote speaker emit loud noises like in Twilight Princess. Speaking of which – pun fully intended – Skyward Sword doesn't use it as often as Twilight Princess as it's now only used for when Fi has to tell you something (okay, never mind…I take this statement back). Here, they've tried using cartoon and comical sound effects that works perfectly for the style and setting, as opposed to its darker predecessor that tried too hard with being realistic.
Plot Analysis: 8.0/10
The plot's structure of Skyward Sword is very much like…Twilight Princess; you start off with a long and cinematic prologue, then slowly decreasing and stopping before your first dungeon, and going back up during the middle only to be cut off with an epic climax at in the end. This strategy works somewhat as the gaps allow the player to immerse them in the gameplay, and to complete side-quests that have small stories of their own to let you relax from the plot. However, the plot heavily suffers from fillers by making the characters forgetful, picky, or just outright stupid.
I personally have little comment for the story; I mean, sure there are both good and bad things to mention, but the story overall is just…good. They did a good job explaining the origins of many characters, weapons, and events, yet there seems to be a lot of contradictions with future events. For example, how is Demise the past incarnation of Ganondorf if he was completely sealed in the Master Sword? They still did a great job with adding personality to the characters; making the once living world into now post-apocalyptic; and even had a romance between Link and Zelda.
Living up to their expectations, Nintendo did manage to present the story in a cinematic and climatic manner in the beginning, middle, and the end. The different camera angles, expressive body language, atmospheric and orchestral music, and special visual effects captivate players into the plot. Unfortunately, everything that is in between lacks most (or all) of these elements, and resort to the typical in-game dialogue cutscenes with the lame text boxes and grunting noises that characters often make (but at least they have emotions now unlike with Twilight Princess).
Again, Nintendo is still in their own little world by refusing to have voice-acting for the script. It's quite sad how they assume the video game industry is just like it was back in the '80s and '90s. Why don't they copy EA with The Sims and have all characters speak a gibberish language instead of just Fi and Midna? The way it's written is okay without being too corny or too poetic, but come on, the lack of voice-acting just screams xenophobia! At least the simple vocabulary and use of daily language makes us relate to the characters more.
Content: 9.0/10
NPC's are another major improvement over what was established in Twilight Princess and Wind Waker (not just the changes in emotion and personality). Many of the residents actually now give you helpful advice, react to recent events almost instantly, and/or say things that are relevant to who they are – these factors only applied to the main characters in the past (they even make funny jokes which is a guilty pleasure of sorts). Each NPC has their own unique face, name, appearance, personality, occupation, status, and role which adds more realism.
Besides playing the regular story mode, there's also the somewhat new Hero's Mode. This is much like the Master Quest from Ocarina of Time in which it's playing the entire game over again but at a harder difficulty. The differences are that the game isn't mirrored and there are no changes to the dungeons. Instead, it's just that you take double the amount of damage as the enemies are stronger, there are no hearts laying around to replenish your health, and many items from the first file are brought over to make it a little easier.
A step down would be the overworld, but the dungeon design evens it out pretty well. Nintendo scaled down the map to roughly the total surface area of Ocarina of Time's map. They also limited the diversity of the geographic regions to five:  sky, forest, volcano, desert, and water, as well as toning down the exploration by making the plot progression and travelling extremely linear. Skyward Sword does have great dungeons with memorable features, creative puzzles, intelligent layout, unique environments, hidden secrets, and challenging mini-bosses/bosses.
They made the overworld more dungeon-based by implementing platforming, rooms, puzzles, and even throwing in a few bosses and mini-bosses just to keep things fresh. Silent Realms, while similar to both the Twilight Realms from Twilight Princess and Dark World from A Link To The Past, have improved exponentially. They take much less time to complete; the tears of light are extremely easy to find and collect; enemy presence and threat is minimal (and manipulated to non-existant); and you can gain access to hidden or new routes impossible to access in the light world.
Some of the best and favorite dungeons among the IP and fans are from this title. I originally was going to include the story, but due to the length (and the fact that we all know the story), I decided to omit so I will state the names of the dungeons. The following dungeons are self-explanatory on what they are: Skyview Temple, Earth Temple, Lanayru Mining Facility, Ancient Cistern, Sand-Ship, Fire Sanctuary, and Sky Keep. They're all extremely diverse unlike the overworld and show that Nintendo's creativity still lives even after 25 years.
I didn't really go over the items, though I'm entitled to since it's a major component of Zelda games. It's very innovative in the way newer items are designed, being able to do what the other could not as they're not clones nor variations of older ones. This allows for newer puzzles, enemies, bosses, and side-quests to fully take advantage of it and increase the overall quality of the game. Plus, it exploits the usefulness of the Wii Motion Plus to add extra gimmicks and fun; even the older items got upgraded with new looks and also new control schemes.
For the old, there is the following: Sword, Wooden Shield, Tunic, Empty Bottle, Sling-Shot, Bomb, Gust-Bellows, Double Claw-Shots, Hero's Bow, Arrow Quiver, Wallet, Hylian Shield, and the Master Sword. Then there are the newer items: Beetle, Item Pouch, Goddess Sword, Bug Net, Seed Pouch, Iron Shield, Digging Mitts, Mogma Mitts, Sacred Shield, Water Dragon's Scale, Whip, Fireshield Earrings, Goddess Harp, Zelda's Sail-Cloth, Time Shift Stones, Carry-On Medals, and the Triforce. This is a review and not an encyclopedia, so do your own research on what each does.
Enemies and bosses are a major improvement over what was seen in Twilight Princess as well. Not only are they much more difficult to fight, they also have more biodiversity (aren't merely clones or palette swaps), have interesting lore that deeply explains their origins, and allows multiple strategies to defeat them. The enemies are scattered throughout and can appear in areas where you'd least expect them, and while it does suffer from different variations, it fits well with the theme or environment that they belong to.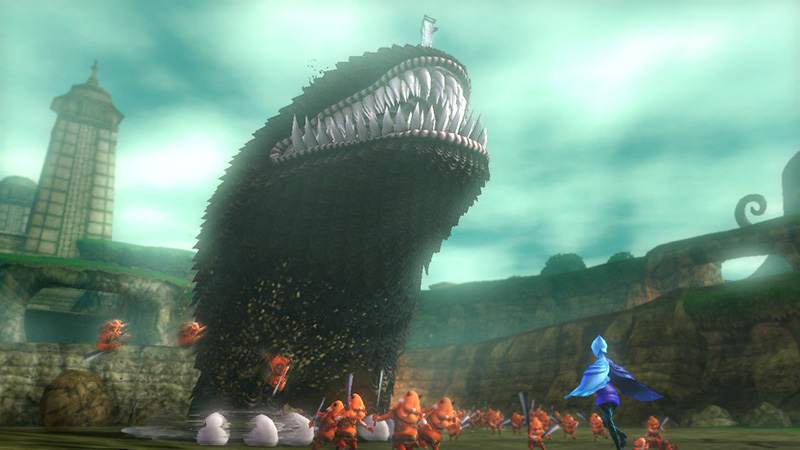 Bosses require multiple methods and items to defeat, so you have to be strategic and be able to go past their strong defenses. Like with the enemies, you can resort to many different ways to dealing damage to the bosses, which adds even more creativity. Seriously, they're so complex that some of them take nearly 10 minutes to beat or even a few deaths to get things right! They can range from giant monsters to humanoid beings and even a whole army of enemies; Ghirahim, Scaldera, Moldarach, The Imprisoned, Koloktos, Tentalus, Levias/Bilocyte, Bokoblin Army, and Demise.
Verdict: 7.0/10
As expected, Skyward Sword has a high level of replay value, nearly doubling the total gameplay time if one attempts to aim for 100% completion. First attempt lasts 60 hours, consecutive attempts at 30 hours, and speed runs take at most 15 hours. Old side-quests consist of heart-pieces, mini-games, and bug hunting which are the same, though it's the newer ones that count. These make all your stress and worries of the main quest (for the most part), are fun and easy (with some exceptions), and is a great fan service since Nintendo listened to our demands.
Goddess Cubes are purple cubes scattered throughout pre-historic Hyrule that unlock collectibles in the sky when activated (to add superficial exploration of the barren hubworld). Then there's this new and improved upgrade system, in which you have a blacksmith and a cook upgrade your weapons, pouches, and potions by giving them the natural resources or bugs they need to mix or craft to give you the finished product. About the gratitude crystals…you can find them by doing errands for the citizens of Skyloft so they show you their gratitude in the form of crystals.
The experience overall greatly depends on your gaming preferences; specifically, whether or not you're into motion controls and a Zelda game that is a mix between Wind Waker and Twilight Princess. For me though, it was like a stock-market: there are ups and downs with no guarantee on the future outcomes. I can say though I disliked it at first for the terrible motion controls, difficult bosses, frustrating side-quests, and the constant story and gameplay fillers. But then as I gained more experience and skill later on, I began to enjoy it and realized how much I sucked in the past.
Skyward Sword has the graphics of Wind Waker, music of Ocarina of Time, controls and gameplay of Twilight Princess, and all else being a melting pot of the entire franchise. While the graphics and controls are step-down; the music, plot, content, and gameplay is a step-up for the Zelda IP. I personally love the special game mode which allows you to re-try boss battles and silents realms; I hate how Nintendo spoon-feeds the casuals by offering too much help. Though not quite from being perfect, Skyward Sword is recommended for all Wii owners and Zelda fans alike.
Final Review Score: 7.8/10