Foreword
Well, I just finished my last review over a month ago (sorry for the delay), so let's complete this review to end all reviews for the Nintendo Wii once and for all! No More Heroes was published by Ubisoft but is developed by two companies Grass Hopper Manufacture and Marvelous Entertainment –  both led by the infamous Suda 51. He is the CEO of the former developer and was the brainchild behind Killer 7 for the Nintendo Game-Cube, which of course, makes it an inspiration of N.H.M. You know, both being a beat-'em-up game where you get to kill people for sport.
I honestly have no idea why G.H.M and Suda 51 decided to develop No More Heroes; not many copies were sold were sold yet a sequel and HD remake was released in 2010 and 2011 respectively. This is a game that I got and played very recently – like back in January and July – so my impressions are just fresh off the boat that is rare. N.M.H. was purchased alongside Monster Hunter Tri and the legendary Xenoblade-Chronicles in September 2015! I urged to get more third-party games and nothing to play at the time, though due to time constraints, I never started Xenoblade.
At first I blindly assumed that N.M.H was a mindless sword slasher with tons of blood and violence based on gameplay footage. But after I realized that there was much more to do with more fun than I imagined it to be, although I don't recommend this to younger audiences due to the excessive mature content found here. To sum things up, N.M.H is a bloody action game which you hunt down assassins to be #1 with a light-saber, filled with humorous plot and catchy music, but low content and poor graphics. Of course, there's more to it than that but spoilers are for later on.
Gameplay
No More Heroes is a game that consists of multiple genres and borrows its gameplay elements from various franchises, such as Zelda and GTA to name a few. Aside from being a beat-'em-up action game with the main objective of hunting down 10 assassins, it's also an adventure game offering exploration, arcade offering mini-games and power-ups, and so on. Before each fight though, you must pay a huge entrance fee to the association, with the money earned via side-jobs and assassination missions.
It gets repetitive like right after the first 2 bosses; however, the different missions and jobs are diverse and fun to try out. Also, each assassin is unique with both the fighting style and personality so you'll be entertained by the plot and gameplay. You get to kill an army of minions each time before a boss fight which is great practice and fun. Honestly, if there was much more to do and way more boss fights, N.M.H would be the perfect "hack-'n-slash" for hardcore gamers.
There aren't that many game mechanics but I will discuss the sword-fighting and also the motorcycle mechanics. You're equipped with a light-saber called a beam-katana here that serves as the only weapon; while slashing is done with button mashing, blocking and finishing moves are performed with motion controls. It is possible to upgrade with stronger and/or faster blades though training in the gym makes a difference. Motorcycle is you main method of transportation in the hubworld.
Commands that you can execute include boosting, drifting, and jumping besides just steering and accelerating. Boosting allows you to go faster but there's a meter; drifting is very awkward though it helps so much if done correctly since the steering in this game is atrocious; and jumping is needed to reach the second and first assassins. Other game mechanics include the power-up system which is simple but complex. Whenever you kill an enemy with finishing moves you get a power-up randomly, as three casino slots must align with the same symbol to activate.
You either shoot powerful energy balls, enemies being in slow-motion, instantly killing nearby enemies, having super speed, and releasing an energy explosion killing everybody within your radius (ineffective towards bosses). They only seem to appear more often when you suck at the game, while the last power-up almost never appears as I only used it once out of the hundreds of times I activated the slots. You can also collect balls found in the hubworld and trade them to an old drunk to learn new techniques that I'll cover later on as it's more relevant then.
N.M.H is played only with the Wii Remote & Nunchuk strictly, which are very simple and intuitive to use. The control stick is to move Travis, C button is for 1st person view, and the Z button is for camera reset and enemy lock-on targetting. The d-pad is to change the camera angle or dodging when locked on to an enemy. A button is to swing the sword to attack enemies, perform combos, and unleash a charged slash when charged. B trigger button is for melee attacks that can also stun and activating wrestling moves.
The – button is for using that explosion power-up and + button is for the map. Finally pressing the 1 button is to recharge the battery and the 2 button to toggle the mini-map on or off. In addition, the dodge move is needed for charged and unblockable attacks from enemies and bosses, whereas the charged slash goes through blocks and counter-attacks. If you repeatedly press A after charging, you will perform a beheading move the instantly kills multiple enemies. Swing the Wii Remote and Nunchuk according to the on-screen prompts for wrestling and finishing moves.
You can tilt the Wii Remote to perfom either a low or high block that can defend against said incoming attacks. Many enemies and bosses will attack and defend in these two stances, so it's important to master it or you will easily die. There actually exists a special counter-attack called the quick or circle dodge, which is tilting the control stick right after a boss or enemy attacks you. Do it right and then you can attack them repeatedly for extra hits while they're stuck in slow motion. However, some bosses and enemies are either immune or are fast enough to dodge this.
N.M.H has three difficulties to choose from, with the latter only available after beating the game once. They are SWEET which is the easiest, MILD as normal, and BITTER as the hardest, with differences in damage, health, moveset, and AI. I honestly recommend SWEET for casuals and beginners while MILD for all else. BITTER should only be for the extremely hardcore or skilled as it is very, very difficult. I actually found the game to be super easy on both SWEET and MILD as long as you're not arrogant.
To be frank, only the boss fights and certain assassination missions as well as some side jobs are challenging, while the rest are pathetically annoying or easy. The majority of the game is spent on mundane and repetitive tasks, ranging from fighting swarms of enemies to picking up garbage on the streets. Players will always have to mash the A button then swing the Wii Remote to kill, and have to follow on-screen button and/or motion prompts for jobs which gets boring after awhile. It's the bosses requiring skill and strategy with some even having instant death moves.
Presentation
Being released in 2007, N.M.H has terrible looking graphics despite what critics and the developers have said otherwise. It's sadly rendered in 480i SD running at a shitty frame-rate ranging from 20 to 30 FPS (sometimes even to 10-20) in the hubworld, but it goes from 30-60 FPS usually between 50-60 in the actual fights. Grasshopper decided to use a cel-shaded art style for characters and objects but normal aesthetics for all other in-game models and textures. Far away it looks good, average distance it's okay…but then up close is when it looks like diarrhea vomit.
Textures are comparable to that of DreamCast games whereas coloring is dull and dark with browns, blacks, and greys. Seriously, the lighting is just done poorly looking like a person with to artistic skill or talent attempted to do water-coloring on regular thin paper. It unfortunately demotes the game to looking with GameCube graphics although the cel-shaded models actually benefit from its own unique lighting resembling a mix between comic book and realism. If it weren't highly detailed models looking realistic and accurate proportions, N.M.H would not qualify as a Wii game.
The soundtrack is very repetitive with the boss themes and a few miscellaneous pieces that are diverse worth listening to. You'll hear the main theme and remixes of it repeatedly but it's very catchy and composed brilliantly – it will get stuck in your head which is great! Boss themes are memorable for their diverse genres, catchy tunes, and sophisticated compositions; I like the themes of the ninth, seventh, second, first, and the bonus-ranked assassins. The names given to the song are bizarre yet creative, such as Oxygen Graffiti and Pleather For Breakfast.
Sound quality is surprisingly good since the voice acting and BGM can be heard clearly without background noise or interference. It doesn't sound too quiet or too loud, nor is there an imbalance with the different sounds. Consequently, it is loud and clear with almost all details heard resembling close to HD sound quality. With the Wii Remote speaker turned on, players can listen in on Sylvia speaking to Travis before each boss fight for hilarious and corny conversations.
Plot Analysis
Before the story begins, you can choose one of three difficulties and then an interactive scene ensues prompting players to control Travis to ride his motorcycle. After leaving the motel like a crazy person, an introduction serving as the prologue follows suit. So basically Travis is a man-child who is obsessed with anime, wrestling, and video games that is near bankruptcy. He then decides to get a job during one night in a bar after meeting Sylvia Christel, becomes sexually attracted and flirts with her, and is hired as an assassin.
To become permanently accepted into the association, Sylvia requests that he take down two assassins: Helter Skelter and Death Metal. The former is killed in the intro while the latter is killed after Travis trespasses his mansion and kills all his guards. He qualifies to become a hit-man but realizes Sylvia set him up as his life is now at risk. Travis requests she engage in sexual intercourse with him if he becomes #1, which motivates him to take down the remaining 10 assassins – did I say 10…I meant 9!
9th ranked assassin begins with Dr. Peace, who is a Native American police detective specializing in illegal goods and investigations, as well as working for criminal organizations and the black market. Travis is forced to pay an entrance fee for the remaining assassins to participate in these fights; however, he is offered to work in side jobs and assassination mission to compensate for the expenses. After storming through Destroy Stadium, he hears him sing an amazing song before complaining about his estranged daughter.
Travis successfully murders him, also discovering the entrance fees are bit of a scam as they're used for covering the expenses of the association and its members. He is called by Sylvia to meet with the next assassin in Santa Destroy High School – her name is Shinobu and is the daughter of a famous pro-wrestler who was murdered, hoping to avenge his father. She assumes he was the killer as her father was "sliced in two" from a beam katana. He of course spares her life for being too young and hopes she finds the truth.
He confronts the seventh ranked assassin in Bear Hug Studio right after taking the subway and slaughtering dozens of people. He appears as an ordinary mail-man but then dawns a superhero costume, attempting and does trick Travis into being electrocuted by a tazer in his hand. Destroy-Man (his alter ego) proceeds to kill him with a shock-wave attack and laser blasts and beams. Miraculously surviving from the attacks, they fight which Destroy-Man yells out all his attacks making him very predictable.
Near death, Destroy Man tries to kill Travis one last time through bullets launched from slots on his nipples. He is sliced in two and Travis then moves on the next assassin at Body Slam Beach but not before killing dozens of military soldiers. She is foreign lingerie model from Sweden, having a prosthetic leg capable of shooting missiles and storing grenades, which makes Travis uncomfortable for fighting a woman. He eventually wins though is hesitant to kill her; Holly then sets a grenade to commit suicide to declare defeat, and her body is buried in the beach.
The fifth ranked assassin is a Russian magician by the name of Harvey which Travis confronts only because Sylvia bought tickets to his show for reserved seating. He boards the subway and dreams of a retro arcade shooting mini-game instead of killing people. After waking up, he arrives at his subway station and enters the theater with Sylvia in a beautiful dress. Harvey appears and performs a few tricks before inviting Travis on stage and apologizes for revealing that his parents passed away.
They fight after a failed attempt at killing Travis with the magician obviously using magic tricks as fighting tactics. Travis slices his eyes with his sword, blinding him and the assistants pin him down to the giant saw-blade, with Travis and Sylvia making out right after. The next hit-man isn't fought at all since Letz Shake and his military robotic weapon are sliced in two by another lightsaber wielder by the name of Henry Cooldown. Travis is interrupted by Sylvia, allowing Henry to get away, angering him and asks if she knows him.
Third-ranked assassin is an old lady with a laser shooting machine that can disguise as a shopping cart. Jeane (the cat, not his lover) goes missing and coincidentally finds her in a nearby city where the fight begins after arriving by bus. Thunder Ryu who is Travis' mentor in wrestling, is seen struggling against a giant laser beam with a samurai sword, warning his apprentice to back off and has nothing left to teach him. He is blown up into smithereens, bringing both anger and sadness to Travis who swears vengeance.
Speed Buster is defeated once Travis reaches a pole that knocks down on her machine destroying it. He beheads her in anger and avenges his master, claiming his sword to use it and honor him. Sylvia seemingly disappears as her assistant reveals through phone and a note from a pigeon crashes through his bedroom window telling him to revisit Destroy Stadium. He takes his motorcycle inside and enters the hidden basement through a shaft in the baseball diamond. An attractive young blonde wearing a Victorian style dress is seen wielding a baseball bat.
She kills every man in bondage attire coming out from the conveyor belt, drinking soda to replenish energy and offers Travis some. He rejects it and is disgusted with her mentality with her job. Bad Girl cares not about him and fights in an extremely long and difficult battle though she is finally killed too. He faints on the ground with Sylvia's assistants probably carrying him back to his motel while unconscious. Preparing to fight the final assassin, Travis has his motorcycle stolen upon exiting his hotel room and giving chase.
He finds it at the highway ramp, entering the highway to finish the assassin business once and for all. Travis soon finds out by Sylvia's mother before that she is a con artist and the whole association was one big set-up. Upon reaching the forest, Travis' motorcycle breaks down so he must travel by foot. He then confronts the ghost of Ryu and reads his letter complimenting him. Finally at the castle entrance, Dark Star appears as the last assassin, claiming to be his father and asking him to remember why he started his journey.
He reveals that he only became an assassin to avenge his parents who were tragically killed by his past girlfriend Jeane. Lo and behold, Dark Star is killed by Jeane herself appearing before Travis. He is mocked by being stupid and naive, to which he is surprised and angry at her, wanting to know why she killed his parents and destroyed his home. He reveals that while he discovered the association was fake, it was Sylvia who (along with Thunder Ryu and others) helped him exact retribution by killing the assassins.
It was sort of like training where he gained the skill and speed to defeat Jeane in battle. She tells Travis in a fast-forwarded cutscene that the two ex-lovers are actually half-siblings, since they have the same father but different mothers. Jeane's mother committed suicide after their father married and fell in love with Travis' mother. While to Travis he was a caring family man, in reality he sexually abused Jeane for her entire childhood, forcing her to run away and vowing to kill him.
She resorted to prostitution as a means to fund her martial arts training, eventually murdering Travis' parents, prompting Travis to seek vengeance through training from Thunder Ryu and the UAA by Sylvia. He berates Jeane that two wrongs don't make a right, and that "vengeance begets vengeance" to which she replies with a rude remark and begins the battle. After seemingly defeating Jeane in a long and tough battle, she ambushes Travis by fisting his stomach, only to have Shinobu come out of nowhere and slice her hand off.
This allows Travis to finally get revenge and kills Jeane, accepting her fate after wanting to no longer live her tragic life. Travis Touchdown proclaims that his career as an assassin is over with Sylvia and Shinobu watching close by. With the main story over, Travis shits in the bathroom when suddenly the door is sliced in two and a black man asks if he's the first-ranked assassin. He wields a purple beam katana and attempts to kill him, but is sliced in half by Henry asking to fight in the parking lot.
They fight a long battle with both evenly matched in both skill and power; Henry then reveals he is his older twin brother and Sylvia is in fact his wife. He is in shock, confused on how to end the game until they decided to both honorably kill each other. Credits roll with an art portriat of Travis and Henry about to kill one another, with Slyvia's young daughter appreciating it, following her mother leave afterwards. Actually, both assassins live as Sylvia intervenes allowing Desperate Struggle to occur.
You can already tell that the atmosphere is dark and mature, yet funny and corny to balance out the violent and sadistic elements. I forgot to tell you readers the game occurs in a fictional poverty-stricken town called Santa Destroy in California, USA in 2007. Aside from the main characters, there's Professor Naomi, an expert in beam katanas and wears sexy clothing; Bison, who is Travis' best friend and owns the Beef Head store; and Randall Lovikov, a Russian alcoholic offering special techniques in exchange for Lovikov balls.
While the plot is written well, it suffers from not filling in the gaps between each boss fight making the transition awkward. But at least the plot is consistent and doesn't die down throughout the middle only to be picked up during the end. It is sort of repetitive as with gameplay progression, though the confrontation with the assassins are always different from one another; interesting and funny to watch with times where it's serious and realistic. Other supporting or secondary characters get involved which improves it.
Cutscenes are few and far in between, both in quality and quantity as most are that of Travis simply listening to his voice messages on his phone/fax machines. The best are obviously involving him meeting and killing (or defeating) the assassins and the interactions with Slyvia; as well as the introduction, prologue, conclusion, epilogue, and ending cutscenes. What sucks is they are all in-game so you can see how bad the graphics are with the low-rez textures, dull and ugly colors, terrible lighting/shadow, jaggy models, and inconsistent frame-rate.
Since it's presented in a cinematic and timely manner, they make N.M.H. feel like a plot-heavy game with plot progression beneficial to players who clear through the ranks in order to watch cutscenes as a reward. Animation is developed greatly with many special effects, techniques, camera angles, and choreography making it feel like a superhero and comedy movie. There aren't any CGI cutscenes while QTE are limited to the ending cutscene to the fights of Dr.Peace and also Jeane (the assassin, not the cat).
Probably the script is the best feature of N.M.H plot of course. The humor is just over the top with offensive insults, slapstick comedy, breaking the fourth wall, mature themes, perverted and violent scenes, and excessive swearing. Despite it there are often times when it gets very emotional and serious, adding realism and enabling players to sympathize with characters and making their personalities very serious. Voice acting is performed amazingly well as it's believable unlike that of Hollywood shows and movies.
Content
After beating the game, you will unlock Bitter difficulty and the New Game Plus. Bitter is of course the hardest difficulty; bosses and enemies have the most health, deal maximum damage, and are the most intelligent. This is only recommended for extremely hardcore gamers unless being fucking angry as an alcoholic is kind of a thing. New Game Plus allows you to have all of your weapons, money, techniques, strength, health, cards, and clothing in a new save file with only story progression and ranking erased.
Honestly, it's the replay value where N.M.H. excels at as everything from missions and collectibles to the boss fights are repetitive yet addicting. It may lack quantitative content but the appeal to repeatedly play over and over provides both quality and quantity. Perhaps it's the brilliant mix of button-mashing and motion controls, or it might just be the extreme violence, high profanity, as well as the blood and gore. In the HD remake on PS3 and Xbox 360, there's Very Sweet Mode with the female assassins wearing revealing outfits.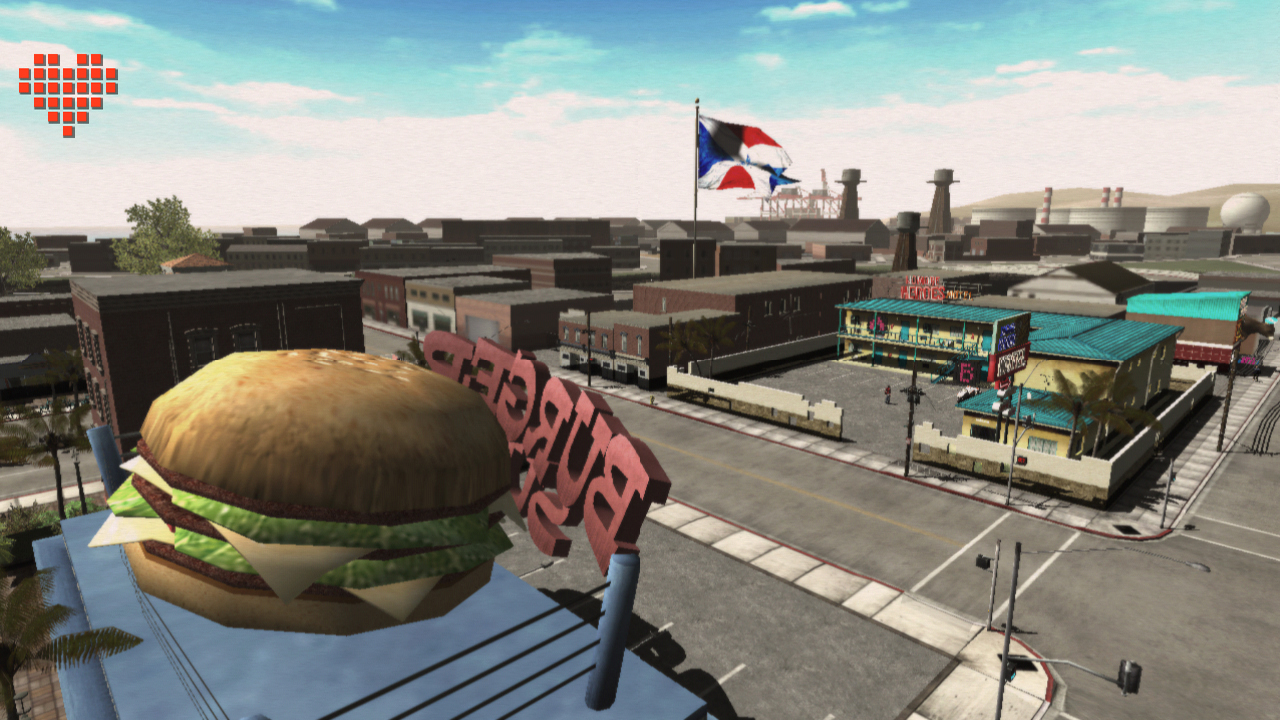 Santa Destroy serves as this game's hubworld, and unfortunately for the most part, is one of the worst hubworlds for a sandbox game. Majority of the buildings are useless and just there for aesthetic purposes – nah, actually most of the town. Only roughly a dozen buildings are actually used by Travis and are all conveniently located closeby. What sucks is that walking is not even enabled inside buildings and interaction with people and objects are done via menus. Many buildings are also generic, vacant, and visually unappealing.
There are very few but unique buildings and areas that serve as landmarks with visual appeal…but you can't go inside them unfortunately. Only the Destroy Stadium, Santa Destroy High School, Slam Body Beach, and the abandoned subway station are accessible as they serve as levels leading up to the boss fights. The roads are many in number yet the quantity is completely unecessary, as well as open pavement/concrete and fields littered across town. Alley-ways and parking lots have dumpsters with money and clothing serving as poor exploration.
For the levels, there's the mansion of Death Metal, Destroy Stadium, Santa Destroy High School, the abandoned subway network, Bear Hug Studio, Body Slam Beach, that performance theatre, some underground tunnel, Speed City, and finally the highway. These are barebones as levels can get with little to no exploration, boring room layout, virtually no interactive elements, and being very linear as progress is made by defeating all enemies to be granted entry into the next room. But at least it looks nice and realistic to make up for the poor design.
Since the town is near poverty, you won't see much or do much though this is just a piss poor excuse by the developers for not trying hard enough. Santa Destroy as a whole is non-linear but the few accessible buildings are very linear. By the way, these rare gems consist of: No More Heroes Motel, Beef Head Video Store, Thunder Ryu's Building, Naomi's Laboratory, Area 51 (Clothing Store), Gold Town, Job Center, and finally K-Entertainment. With the exception of the motel and the training gym, all buildings are meant to serve one purpose.
In order to access the levels, you have to pay an entrance fee to the UAA's bank account which breaks the flow and progression of the gameplay and plot. Once you clear them, they can never be accessed again albeit a few rooms and fields within assassination missions. Such pathetic stages only take 10 to 15 minutes to clear with the bosses also around the same duration. Before each battle, you can enter a room or open area with a bathroom to save progress, and also pick-up items to replenish health and battery.
N.M.H. offers a variety of different weapons, clothing, pick-up items, and hidden goodies to collect and/or to use. Clothing can be found within dumpsters and bought at the Area 51 store, including sunglasses and belts but are for purely aesthetic value. Hidden items are just trading cards or wrestling masks alongside with concept art of assassins and main characters hidden inside treasure chests scattered across the levels. It also considers Lovikov balls which can be found throughout the town and traded for techniques.
Yup, these balls also force players to explore the barren hubworld; however, exchanging 7 of them to Randall grants you a skill each time. These give Travis new abilities expanding upon his arsenal of moves. They consist of dashing in the hubworld, performing a jump-attack, seeing enemies on the mini-map, extending the range of your grab, extending Dark Side mode, and the like. Pick-up is just pizza to replenish health and stereotypical looking batteries to replenish battery for your katana.
Weapons are all of course beam katanas, which can be bundled with upgrades that increase power output and reduce battery usage. Travis starts off with the weakest and slowest with no upgrades, the Blood Berry; then the Tsubaki MK-I, a longer blade offering upgrades and improved strength, maneuverability, and range. Soon later in the game, you unlock Tsubaki MK-II, having multiple blades with the best power but the slowest and heaviest. Finally there's the Tsubaki MK-III, a samurai sword with the best speed, weight, agility, and range.
It is slightly weaker than the Tsubaki MK-II but stronger than the others, and it has a battery that never runs out so no recharging is required! Defeating each boss earns you extra health that is permanent; in fact, training at the gym in Thunder Ryu's building increases even more health, extends beam katana combo, and also "strength" apparently making boss fights easier. Speaking of the assassins, they're essentially the main focus of the game as you clear the rankings to kill Jeane and avenge your fallen parents.
Each of them has their own fighting style, moveset, and weapons, with many fighting strategies and high damaging or instant death moves. They are from descending order. Helter Skelter, #10: Death Metal, #9: Dr. Peace, #8: Shinobu, #7: Destroy-Man, #6: Holly Summers, #5: Letz Shake, #4: Harvey, #3: Speed Buster, #2: Bad Girl, #1: Jeane, and Henry Cooldown. These bosses can take dozens of hits or even hundreds on harder difficulties, but quick dodge and wrestling moves enable extra damage.
While strategy and skill are needed, they all follow the same fighting process: wait for them to attack, dodge or block it, and then approach and attack, using quick dodge and wrestling when possible. Later bosses undoubtedly get much harder as it takes longer to attack them, many of their attacks must be dodged or blocked correctly, and the battle is dragged on forever. Enemies are freaking easy and nothing more for humor and to warm up before fighting the bosses.
Button mashing takes care of most minions, while others need to be blocked and then slashed repeatedly. Later on, you should use jump attacks, combos, and finisher moves to deal with multiple enemies. If I never mentioned it before, shaking the Wii Remote in addition to swinging in the specific direction on screen charges up the finisher move to deal massive damage and larger range. You can use an instant beheading move which I don't really know how to execute though it's very similar to charged combo attack.
Verdict
Now while I did mention about replay value in the past, I never really discussed how long the content takes to beat nor its specifications. It take approximately 20 hours for the first playthrough, 30+ hours for the new game plus, and 5-12 hours for a speed run and/or consecutive attempts. Side jobs and killing missions have a ranking system which you're given a medal and monetary record that shows your performance. Boss fights have this too but have time, damage taken, attack combos, and enemy kills as factors.
So not only for bragging rights and ego inflation but also for more and money as well as to unlock extra content. Side jobs are few (only 9) though completely different that offer creative tasks to complete such as hunting scorpions, finding coconuts, or destroying land-mines. Most of the assassination quests are just murdering all the enemies though some must be done in bizarre ways. They consist of using wrestling moves only, deflecting baseballs to athletes, killing a specific target, with controls and mature content adding fuel to the fire.
What sucks is that the awesome boss fights are a few star clusters in a large galaxy; however, the new game plus more than makes up for it. You're able to relive not just the boss fights but also other great moments as well, without having to get back all your weapons, upgrades, skills, strength, collectibles, and money. So you can skip side quests if you despise them and forget about having to start all the way from scratch – plus, it's easier and better to embark on harder difficulties this way.
No More Heroes was a fun and addicting game that I thoroughly enjoyed all the way and my first time playing a mature-rated and beat-'em-up game. Okay, to be honest I got pissed off with many of the killing missions and struggled with the boss fights, but with enough practice, this no longer was an issue. This was the first time that the boss' AI would outsmart me when I became too arrogant and careless which helped me in the long-run. I love the humor of Suda 51 and look forward to playing Desperate Struggle.
Even though I criticize the game's flaws, I'm just trying to be realistic by analyzing it from a critical point of view. Graphics don't look as bad except in the cutscenes while we all have to agree that even just a little more content would've helped. The plot and music are phenomenal with only minor flaws; whereas the controls are questionable with the awkward dodging, knockback effect, and bizarre lock-on targetting which create confusion and frustration in gamers.
To end this review off, No More Heroes is a funny yet serious game filled with adult content that compliments the action-packed gameplay putting off the 1980's vibe. Despite it having atrocious graphics, frustrating combat mechanics, barebones content, the misadventure of Travis Touchdown is something recommended for the hardcore crowd. With memorable music, fluid controls, brilliant plot, and epic boss fights, this is a high-quality game that is not to be missed including Desperate Struggle and Heroes Paradise.